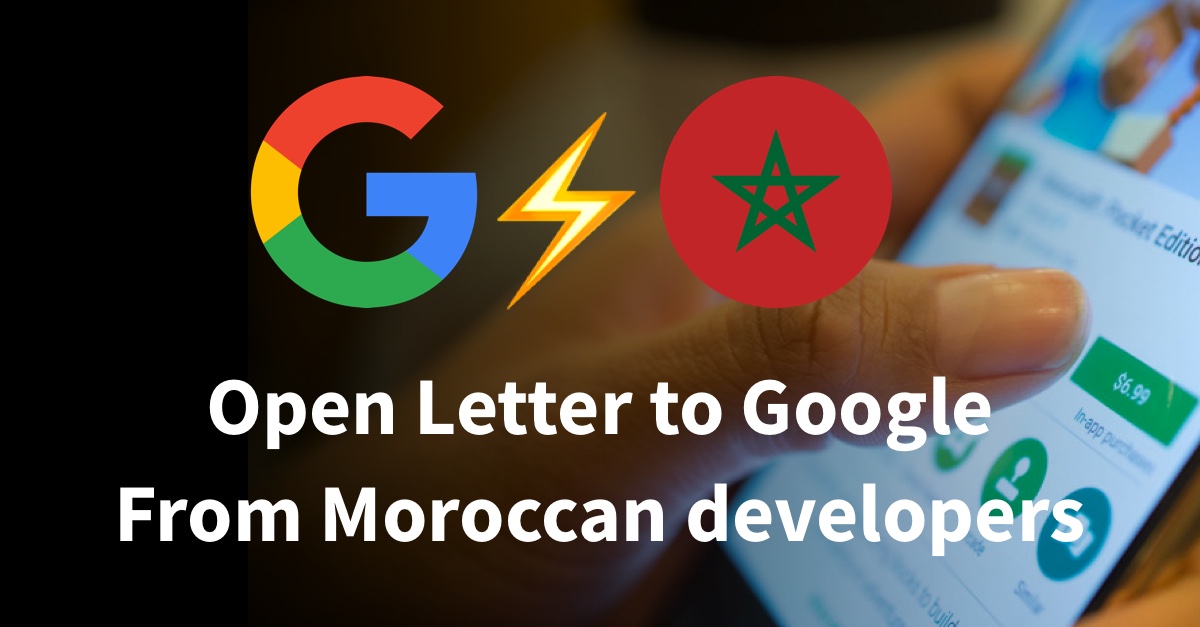 While Google makes great efforts to boost the startup scene in Africa, there are still a few issues hindering the progress and stalling the development of many local activities, such as e-commerce.
Moroccan startups, tech entrepreneurs and developers find themself unable to monetize their Android apps or offer derived in-app purchases in Morocco, while they're paying the same Play Store registration fee (developer account) as other users.
This is not a new issue, as it has always been the case since the launch of Google Merchant, which is the primary service for selling e-commerce products online, such as clothes, as well as digital items, such as Android apps or in-app purchases…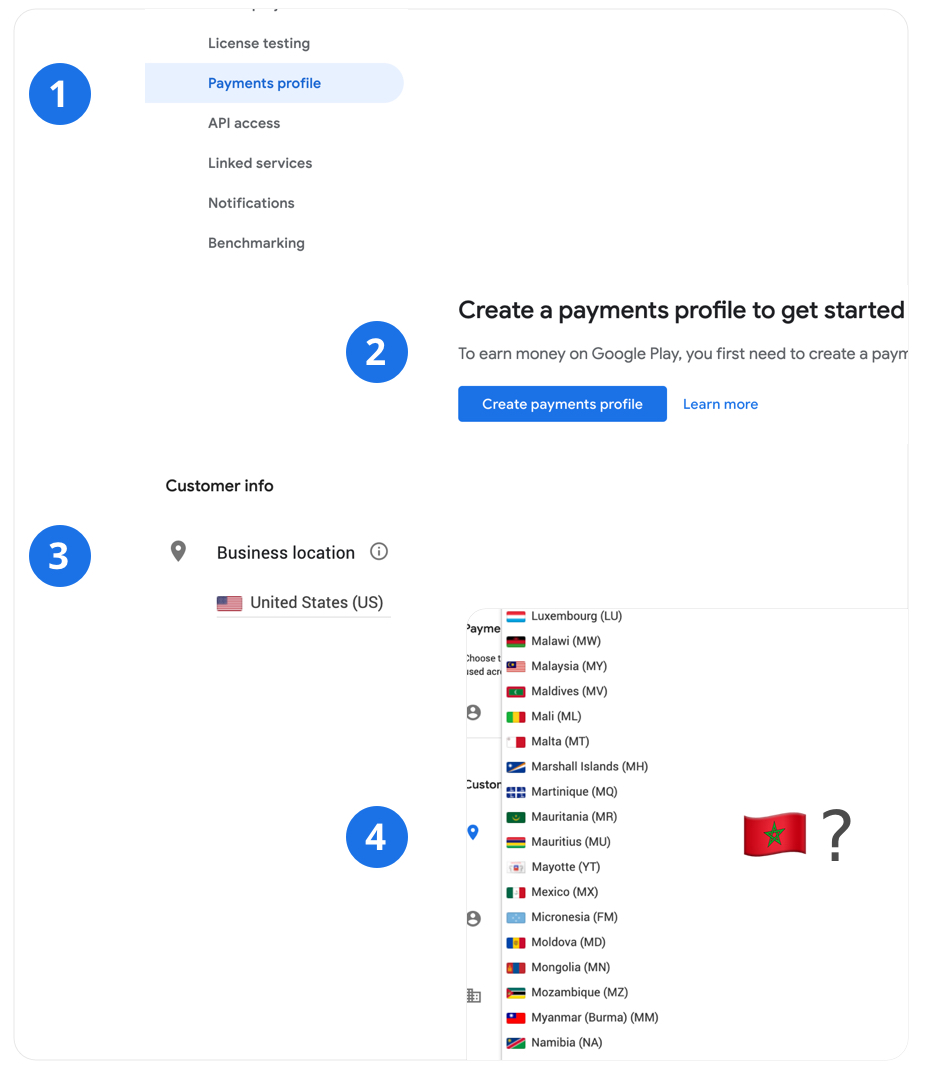 Source: https://play.google.com/console
Monetization is one of the fuels for Mobile Apps to enable them to survive, ensure continuity and grow. By limiting Google Merchant (payments profile) registration, many developers have been forced to find alternative business models, like Admob advertisements, which aren't necessarily suitable for all business types.
By reading the complete permitted country list, I discovered that Morocco is the only left-in MENA country without access to Google Merchant while neighboring countries, such as Algeria, Tunisia, Egypt…, have full access.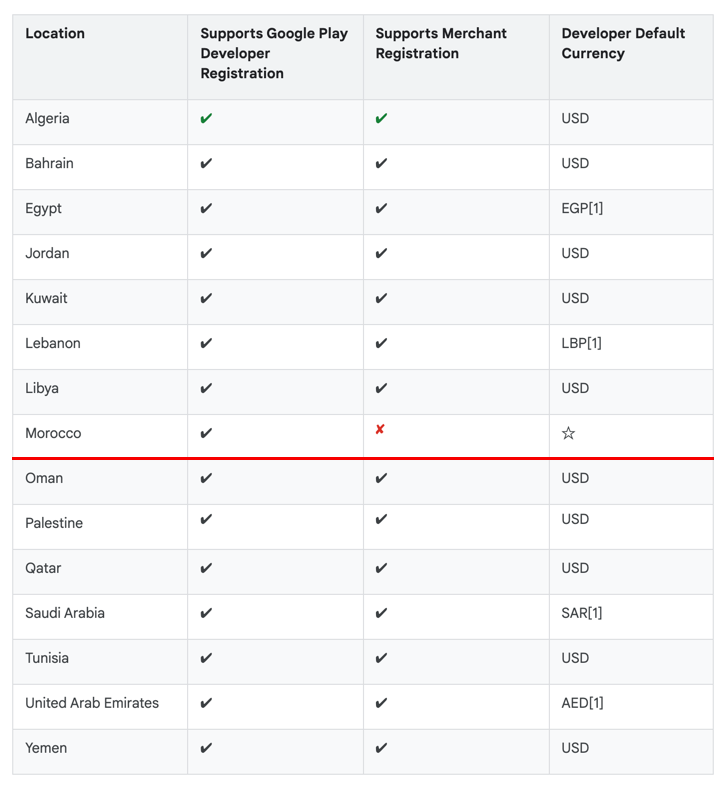 Source: https://support.google.com/googleplay/android-developer/answer/9306917
Since 2015, I have been in touch with many Googlers in MENA (by email and in-person) to get the request to the right team, but to no avail.
My open letter today is intended to spread the message in order to unlock the situation; or at least have a proper justification from Google.
Let's support this much needed change for Africa's future. Please share the following message as widely as possible.
Thank you
---
People who signed this open letter:
Mehdi Sakout, Senior Android engineer
Ahmed El Azzabi, Senior Software engineer
Amine Karimi, Android Developer
Abdellilah Chouikane, Web Developer
Abdessamad Idelkaid, Android Developer
Iliyass Hamza, Software Engineer Team Lead
Mehdi Chenan, Front-end developer
Ahmed Micky, CEO at NEXINUN
Ayoub ALAOUI KADIRI, CEO of DevDream
Reda ALLAH KACIMI, Software engineer
Mohamed ALOUANE, Mobile Engineer
Ali BENHARI, Data scientist
Meriem Zaid, Front-end Developer
Ayoub kherbouch, Software engineer
Kawtar Choubari, Web & Mobile Engineer
Abdelghani ACHIBANE, Software Quality Assurance Engineer
Oualid Ezzoubeidi, Software Developer
Brahim OULHAJ, Software Development Engineer
Mohamed Aïmane Elkira, CTO SQLI
Mouad ZIANI, Software Engineer
Zouhir RAJDAOUI, Android Developer
Yassine KADDA, CTO at APPER
Bachiri Taoufiq Abderrahman, Senior Android engineer /Tech Lead Avito
Rachid Al Maach
Soufiane Rafik, Software Engineer
Youssef Lghoumaigui, Software engineer
Hicham Boushaba, Android Developer
Soufiane Saadouni, Software Developer
Hakim allaoui, Mobile Developer
Said Hadouki, Indie Developer
Nizar Jailane, Full-Stack Developer
Tarik El Hamdani, Software Engineer
Adnane ZIANE, Software Engineer
Hassan Azi, code monkey
Hatim Enezari, android developer
Anas AIT BAHA, Software Engineer
Niki Herl, Student at TU Wien and Web Dev
Mourad El Bakali, Software Engineer
Adil SAKOUT, Mobile developer
Hamza Makraz, Software Engineer
ELATTAR Saad, Cloud Solution Engineer
Yassine Nacer, Web & Game Developer
Otman Mohamed Karim, Software Developer
Abdellah Ettari, Front-end Developer
Achraf Ibn Mrabet, Data Engineer
Yassine Bennkhay, Flutter Developer
Oumaima Makhlouk, Android developer
Ibrahim Bahechar, Mobile Payment Development Manager
Radouane El Hajali, SEO expert
Aymane Taibi, Senior Software Engineer
Souhail Kaoussi, Frontend developer @HI5 Group
Kafil Nasdami, Software engineer
Amine Takha, Software developer
Ouafa ZERBAOUI, Software developer
Soufiane SABIRI, Founder of Easytutoriel
Saïd Dermoumi, Software Engineer
Farid Ouachrar, Frontend Technical Lead @Veylinx
Khalid Skiod, Fullstack developer @Scalify
Yassine Fathi, Full stack engineer
Abderrahim Oussi, Full-Stack Developer
Said Boutoudit, web developer
Brahim Cedrati, Game developer
Rahmo Mohamed, Marketing manager
NAFAI HADDI, Software Engineer
Abdessamad EL BAHRI, Full-Stack Developer
Mohamed Bermaki, Front-End developer
Mohamed Moughamir, Web Developer Auto Entrepreneur
Abdo akram, flutter developer
Ayoub El Failali, flutter developer
Nourelhouda Eljaafari, Data Engineer
Abdelalim Amine Slimani, Data Science, Machine Learning.
Mihfad Hamza, CEO of Voitureavendre
Khalid Rehioui, Software engineer
Abdellah FLIJJA, Web dev
Adam Boujida, CEO - MENA Region at Draper Startup House
Islam chahid, Expert Marketer
Mohammed Amine Maghous, Software engineer
Anas Mazouni, Software Engineer
Ismail Ghallou, Front-end developer
Ahmed Dahliz, Software engineer
Mohammed Amine Azarou, Software Engineer
Marouan Kaboul, front-end web developer
Zizoune Nizar, Full Stack developer
Anas IDRISSI
ELKAOUAR MOHAMMED AMINE, app and game developer
GHOUIBI Anas, Data Engineer
Nabil AIT BRAHIM, Senior Android freelancer
Jalal ZAHID, Android dev
JALAL ABDELILAH, Android developer
Yassine IBN EL HASSAN, Software Quality Engineer
MOUBARAK ACHRAF NOUR-EDDINE, Web / mobile developer - Auto entrepreneur
Khalid ELFAKER, Software engineer
Hamza BenMassoud - Mobile Game Developer
Ayoub Oubarka, Full-Stack Developer
Your name, position
Comment your name below to sign this letter
---